Royal Dutch Shell OIL NEW ZEALAND used One PINT OIL BOTTLE Circa 1940's ANTIQUE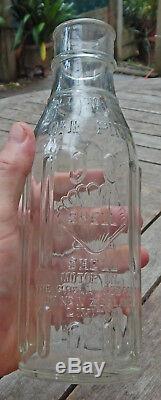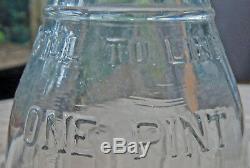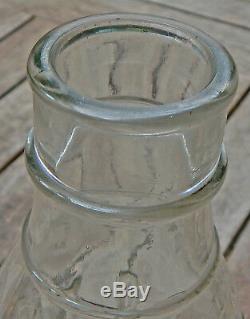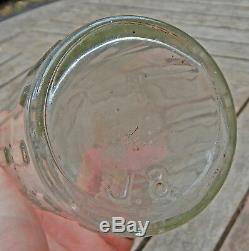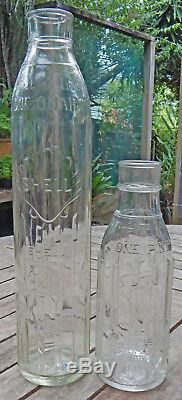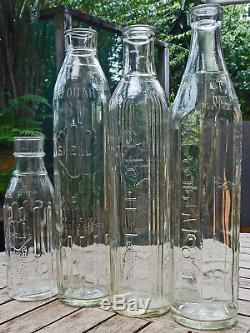 This listing is for ONE (1) genuine vintage ONE PINT smaller-size "SHELL" Oil pouring bottle (Was MADE specifically for use here in New Zealand). This antique gas station collectable IS NOT a reproduction! You would rather receive INTACT un-damaged and exactly as shown. The Royal Dutch Shell Group was created in April 1907 through the amalgamation of two rival companies: the Royal Dutch Petroleum Company (Dutch: Koninklijke Nederlandse Petroleum Maatschappij) of the Netherlands and the Shell Transport and Trading Company Limited of the United Kingdom. It was a move largely driven by the need to compete globally with Standard Oil. The Royal Dutch Petroleum Company was a Dutch company founded in 1890 to develop an oilfield in Pangkalan Brandan, North Sumatra, and initially led by August Kessler, Hugo Loudon, and Henri Deterding. The "Shell" Transport and Trading Company (the quotation marks were part of the legal name) was a British company, founded in 1897 by Marcus Samuel, 1st Viscount Bearsted, and his brother Samuel Samuel.
Their father had owned an antique company in Houndsditch, London, which expanded in 1833 to import and sell seashells, after which the company "Shell" took its name. For various reasons, the new firm operated as a dual-listed company, whereby the merging companies maintained their legal existence, but operated as a single-unit partnership for business purposes.
The terms of the merger gave 60 percent ownership of the new group to the Dutch arm and 40 percent to the British. National patriotic sensibilities would not permit a full-scale merger or takeover of either of the two companies.
The Dutch company, Koninklijke Nederlandsche Petroleum Maatschappij at The Hague, was in charge of production and manufacture. The British Anglo-Saxon Petroleum Company was based in London, to direct the transport and storage of the products 20th century.... Shell benzine for Sir Ernest Henry Shackleton, Antarctic Expedition 1915. Shell tank truck from 1926 based on a Ford Model TT.
Vintage petrol pump (1952) During the First World War, Shell was the main supplier of fuel to the British Expeditionary Force. It was also the sole supplier of aviation fuel and supplied 80 percent of the British Army's TNT. The German invasion of Romania in 1916 saw 17% of the group's worldwide production destroyed. In 1919, Shell took control of the Mexican Eagle Petroleum Company and in 1921 formed Shell-Mex Limited which marketed products under the "Shell" and "Eagle" brands in the United Kingdom. In 1929, Shell Chemicals was founded.
By the end of the 1920s, Shell was the world's leading oil company, producing 11 percent of the world's crude oil supply and owning 10 percent of its tanker tonnage. Shell Mex House was completed in 1931, and was the head office for Shell's marketing activity worldwide. In 1932, partly in response to the difficult economic conditions of the times, Shell-Mex merged its UK marketing operations with those of British Petroleum to create Shell-Mex and BP, a company that traded until the brands separated in 1975. Royal Dutch Company ranked 79th among United States corporations in the value of World War II military production contracts. The 1930s saw Shell's Mexican assets seized by the local government.
After the invasion of the Netherlands by Germany in 1940, the head office of the Dutch companies was moved to Curacao. In 1945 Shell's Danish headquarters in Copenhagen, at the time being used by the Gestapo, was bombed by Royal Air Force Mosquitoes in Operation Carthage. The computer, a Ferranti Mark 1, was assembled and used at the Shell laboratory in Amsterdam. Approximately 22,000 Shell employees are based in the U. Headquarters are in Houston, Texas.
Shell Oil Company, including its consolidated companies and its share in equity companies, is one of America's largest oil and natural gas producers, natural gas marketers, gasoline marketers and petrochemical manufacturers. Shell is the market leader through approximately 25,000 Shell-branded gas stations in the U. Which also serve as Shell's most visible public presence.
At its gas stations Shell provides diesel fuel, gasoline and LPG. Shell Oil Company was a 50/50 partner with the Saudi Arabian government-owned oil company Saudi Aramco in Motiva Enterprises, a refining and marketing joint venture which owns and operates three oil refineries on the Gulf Coast of the United States. However, Shell is currently divesting its interest in Motiva. The Shell Oil Company Warehouse, built in 1925 and located at 425 S.
It is listed in the National Register of Historic Places. Reference #85002073 Shell products include oils, fuels, and car services as well as exploration, production, and refining of petroleum products. The Shell Oil Refinery in Martinez, California, the first Shell refinery in the United States, supplies Shell and Texaco stations in the West and Midwest. Shell gasolines previously included the RU2000 and SU2000 lines (later there was a SU2000E) but they have been superseded by the V-Power line. In 1997, Shell and Texaco entered into two refining/marketing joint ventures.
One combined their Midwestern and Western operations and was known as Equilon. In 2002, Shell began converting these Texaco stations to the Shell brand, a process that was to be completed by June 2004 and was called "the largest retail re-branding initiative in American business history". In the year 2016, Shell Nederland Raffinaderij BV (Shell Pernis) said that it has started a new aromatics unit at the large Pernis refinery in Rotterdam, Netherlands. In recent years The Shell Oil Company's Midstream, and Downstream, in particular, have become limited to petroleum, and chemical products. This has come as a result of Royal Dutch Shell breaking off its Natural Gas and power businesses in to a new segment named Integrated Gas.
The Shell Oil Company's former Natural Gas, and energy divisions are now Shell Energy North America, a closely integrated, but distinctive entity that runs across North America and is headquartered out of Houston. CONDITION = This bottle is MORE than 75 years OLD and has likely seen a LOT of USE in a service station (Gas Station) over many DECADES but I did not see ANY DAMAGE besids the expected USE-WEAR that you would realistically expect with an AUTHENTIC Item of this age.
These IMAGES ARE the most IMPORTANT part of my item's CONDITION DESCRIPTION So if I have failed to show anything clearly? Any questions please MESSAGE ME. Receipt will be issued on request. Add a map to your own listings.
The item "Royal Dutch Shell OIL NEW ZEALAND used One PINT OIL BOTTLE Circa 1940's ANTIQUE" is in sale since Wednesday, February 6, 2019. This item is in the category "Collectibles\Advertising\Gas & Oil\Gas & Oil Companies\Shell". The seller is "phillip_in_new_zealand" and is located in Auckland (aprox. 12,000 "clicks" from USA).
This item can be shipped worldwide.
Type of Advertising: Vintage Gas Station Logo Oil Bottle
Brand: Royal Dutch SHELL OIL Company
Date of Creation: Circa 1930's - 1940's
Color: Clear Glass
Original/Reproduction: Original
Country/Region of Manufacture: New Zealand

---