XRARE c1860s-1870 Photo New Zealand Lake Rotorua Maori Village- Hotel Albumen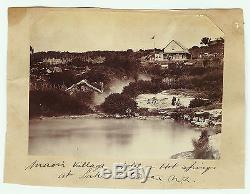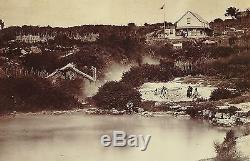 Maori Village - Hotel & Hot Springs Lake Rotorua, New Zealand. For offer: a very rare - one of a kind photograph!
Fresh from a prominent estate in Upstate NY. Never offered on the market until now. Vintage, Old, Original, Antique, NOT a Reproduction - Guaranteed! UNIQUE - One-of-a-kind unknown image. Albumen pasted to light board / heavy paper.
Looks to have possibly once been in an album. Photo area measures 5 1/2 x 4 1/8 inches. Manuscript writing at bottom identifies the scene.
In good to very good condition. A couple small rips at edges.
NOTE: Looks better than shown in scans. If you collect 19th century native history of this region, photography, etc. This is a treasure you will not see again! Add this to your image or paper / ephemera collection.
Lake Rotorua is the second largest lake in the North Island of New Zealand by surface area, and covers 79.8 km2. [1] With a mean depth of only 10 metres it is considerably smaller than nearby Lake Tarawera in terms of volume of water. It is located in the Bay of Plenty region.
The city of Rotorua is sited on its southern shore, and the town of Ngongotaha is at the western edge of the lake. The lake was formed from the crater of a large volcano in the Taupo Volcanic Zone. Its last major eruption was about 240,000 years ago. After the eruption, the magma chamber underneath the volcano collapsed. The circular depression left behind is the Rotorua Caldera, which is the site of the lake. Several other lakes of volcanic origin are located nearby to the east, around the base of the active volcano Mount Tarawera. Lake Rotorua is fed with water from a number of rivers and streams; some such as the Utuhina flow water of a water temperature warmer than the lake due to the thermal activity in the Rotorua area. Conversely streams on the northern shore such as the Hamurana Spring and the Awahou stream flow crystal clear water that has a constant temperature of 10 degrees Celsius. Other notable tributaries include the Ngongotaha stream, famous for trout fishing. Despite the large volume of water flowing through Lake Rotorua its shallow depth makes it very prone to discolouration, especially from sediment following windy weather.
It is well used by fishermen, but less popular with watersports participants and swimmers. Lake Rotorua Lake Rotorua flows directly into Lake Rotoiti via the Ohau Channel at the north eastern corner of the lake; this channel is navigable by boat and is also favoured by fly fishermen. The Ohau channel joins at the Mourea delta, an area with very low water levels.
This area is frequented by novice kayakers and swimmers. Nearby is the ancestral land of the Ngati Pikiao hapu of the Te Arawa tribe. From Lake Rotoiti the waters of Lake Rotorua flow to the Kaituna River into the Pacific Ocean near Maketu; the rapid descent from over 900 feet above sea level in less than 20 km has created an area used for extreme kayaking and white water rafting. Mokoia Island, close to the centre of the lake, is a rhyolite dome. It is probably New Zealand's best-known lake island, and is closely associated with one of the best-known MÄori legends, that of Hinemoa and Tutanekai.
Is said that Hinemoa swam across the lake to her lover Tutanekai who lived on Mokoia Island. Owing to the geothermal activity around the lake (including still active geysers and hot mud pools), the lake has a high sulphur content.
This gives the lake's waters an unusual yellowish-green hue. The MÄori MÄori pronunciation: [ËmaËÉɾi], About this sound listen; Eng. [Ëmaori], [Ëmæuri], [Ëmari], [ËmÉÉri][6] are the indigenous Polynesian people of New Zealand.
The MÄori originated with settlers from eastern Polynesia, who arrived in New Zealand in several waves of canoe voyages at some time between 1250 and 1300 CE. [7][8] Over several centuries in isolation, the Polynesian settlers developed a unique culture that became known as the "MÄori", with their own language, a rich mythology, distinctive crafts and performing arts. Horticulture flourished using plants they introduced, and later a prominent warrior culture emerged. The arrival of Europeans to New Zealand starting from the 17th century brought enormous change to the MÄori way of life.
MÄori people gradually adopted many aspects of Western society and culture. Initial relations between MÄori and Europeans were largely amicable, and with the signing of the Treaty of Waitangi in 1840, the two cultures coexisted as part of a new British colony. Rising tensions over disputed land sales led to conflict in the 1860s.
Social upheaval, decades of conflict and epidemics of introduced disease took a devastating toll on the MÄori population, which went into a dramatic decline, but by the start of the 20th century, the MÄori population had begun to recover, and efforts were made to increase their standing in wider New Zealand society. Traditional MÄori culture has enjoyed a revival, and a protest movement emerged in the 1960s advocating MÄori issues. In the 2013 census, there were approximately 600,000 people in New Zealand identifying as MÄori, making up roughly 15% of the national population. They are the second-largest ethnic group in New Zealand, after European New Zealanders ("PÄkehÄ"). In addition there are over 120,000 MÄori living in Australia. The MÄori language (known as Te Reo MÄori) is spoken to some extent by about a fifth of all MÄori, representing 3% of the total population, although many New Zealanders regularly use MÄori words and expressions, such as "kia ora", while speaking English.
MÄori are active in all spheres of New Zealand culture and society, with independent representation in areas such as media, politics and sport. Disproportionate numbers of MÄori face significant economic and social obstacles, with lower life expectancies and incomes compared with other New Zealand ethnic groups, in addition to higher levels of crime, health problems and educational under-achievement. Socioeconomic initiatives have been implemented aimed at closing the gap between MÄori and other New Zealanders.
Political redress for historical grievances is also ongoing. The item "XRARE c1860s-1870 Photo New Zealand Lake Rotorua Maori Village- Hotel Albumen" is in sale since Tuesday, January 20, 2015. This item is in the category "Collectibles\Photographic Images\Vintage & Antique (Pre-1940)\Other Antique Photographs". The seller is "dalebooks" and is located in Rochester, New York. This item can be shipped worldwide.
Original/Reprint: Original Print
Listed By: Dealer or Reseller
Date of Creation: 1860-1869
Photo Type: Albumen
Subject: Historic & Vintage
Color: Sepia
Size Type/Largest Dimension: Small (Up to 7")
Region of Origin: Asia

---