1890 Artistic Herbarium NEW ZEALAND FERNS Mrs Tom Bell King of Kermadecs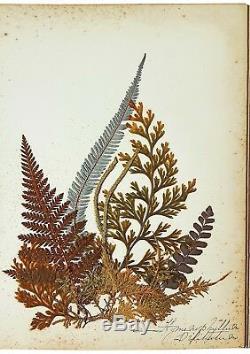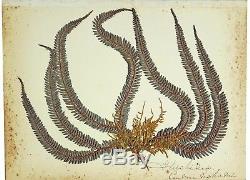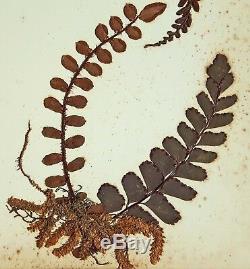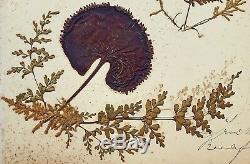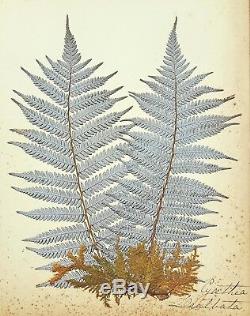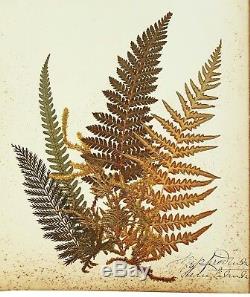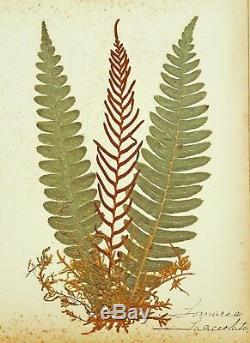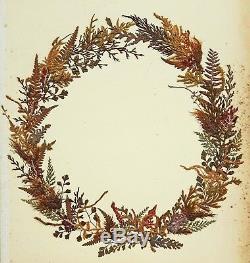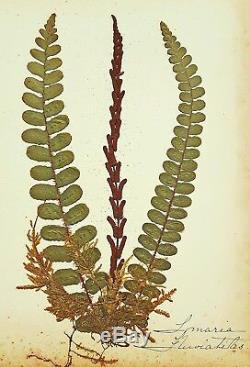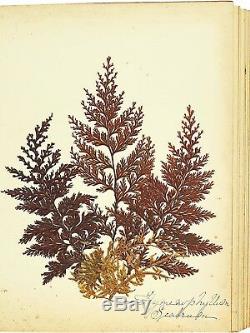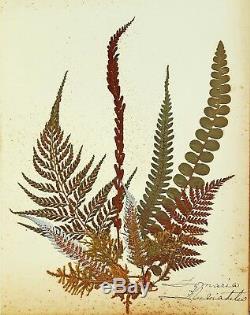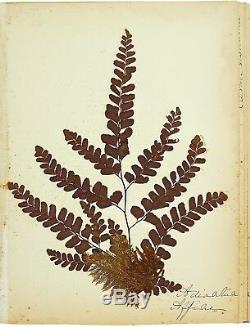 Rare books at fair prices... Asia - China & Japan. Journal of Botanical Specimens New Zealand and South Pacific Ferns Species Exclusive to the Region circa 1890. Nineteenth Century album containing numerous fern specimens harvested by an especially artistic plant collector, uniquely displayed in 31 colourful motifs, with manuscript captions in a fine hand identifying them by scientific Latin names.
Several specimens are very large. Maroon leather boards titled "New Zealand Ferns" and bordered in gilt, with original satin endpapers, gilt edged heavy art cardstock leaves. Volume measures approximately 26 x 31 x 7 cm. Minor wear to boards, otherwise very good condition, a pleasing volume in which is presented a bountiful collection in artistic arrangements. Cyathea dealbata - Symbol of New Zealand.
The collector or botanist who created this lovely herbarium has yet to be identified, however further investigation may find it to be Mrs. It is interesting to note that the Whanganui Regional Museum holds an album presented in the same manner, with manuscript captions in a like hand, perhaps the same hand as it is somewhat unordinary, and contained in a binding of consistent description to the present volume. The album held by the museum is titled New Zealand Ferns. While it is not confirmed whether Mrs.
Bell compiled the album or it was gifted to her, it is certainly conceivable that she was its creator. The best recorded and most successful attempt at cultivating Raoul Island (Sunday Island, Rangitahua), was made by the Bell family, who lived there for over three decades from 1877 to 1913 and who kept diaries of their adventures. Tom (originally from Yorkshire) and Frederica married around 1866 and had ten children, one of whom.
One of their eldest sons, Roy, made a name for himself as a botanist , as a photographer, and for his knowledge of birds, particularly on the island. It is quite likely that he learned much about botany from his mother Frederica who was born into a Lancashire family of farmers. Tom had previously tried his hand as a gold miner, drapery business owner, and hotelier.
Frederica was the one with plant knowledge and agricultural experience, and thus surely played a critical role in the family's legacy of cultivating Raoul Island. A visitor to the island in the late 1880s recorded at least 54 species of exotic plants being cultivated by the Bells, some of which included pawpaw, guava, pineapple, pomegranate, mango, sugar cane, six varieties of taro, fourteen types of bananas, date palm, several vegetables including kumara, as well as Norfolk pine, and even coffee and Havana tobacco! The latter was a gift from a former Governor of New Zealand and friend of Tom Bell.
A substantial selection of ferns native to New Zealand, Australia, and South Pacific islands, is presented in uncommonly artistic and elegant arrangements by a nineteenth century botanical enthusiast. The specimens have been remarkably well preserved and retain their natural hues of deep mauve, camouflage sage, brilliant silver, vibrant gold and yellows, rich burgundies and hints of orange. Their delicate textures remain intact, and occasionally feature naturally defined borders and perfectly aligned sori affixed to some of the leaves, as only mother nature can perfect. A most aesthetically pleasing botanical work, following are a few examples of the specimens found within.
Cyathea dealbata - also known as the silver tree-fern , or silver fern or as ponga (from Maori kaponga or ponga), a species endemic to New Zealand, which is a symbol commonly associated with the country both overseas and by New Zealanders themselves. The earliest use of the silver fern as an official national symbol was by the New Zealand Army during the Second Boer War Adiantum affine - attributed to German botanist, plant taxonomist, and pharmacist Carl Ludwig Willdenow who was a founder of phytogeography Pteris incisa [Histiopteris incisa] - which was described as a genus not long before in 1875. Nicknamed the bat's wing fern, water fern or fern mata, it is found in Australia, New Zealand and in other South Pacific islands region. Dicksonia squarrosa - endemic to New Zealand forests and commonly called wheki or rough tree fern Gleichenia - a genus restricted to New Caledonia in the South Pacific is displayed together with a lovely sprawling specimen of Cunninghamii identified by English botanist and explorer Allan Cunningham during his extensive collecting expedition to Australia from 1816 to 1831. Hypolepis millefolium - the thousand-leaved fern identified by William Jackson Hooker in 1852 Hymenophyllum Scabrun - attributed to Sir John Herschel and described in Edward Lowe's "New and rare Ferns" published in 1871.
The Hymenophyllum is named for its fronds of very thin translucent tissue, which limit its growth to only very humid areas. Lomaria lanceolata - prolific in New Zealand, also native to Australia, possibly also Fiji, Samoa and Tahiti, common in damp forests, especially along stream banks.
Asplenium gracillimum - here erroneously identified as Asplenium bulbiferum, which is common today and even more common from this era. Both are native to New Zealand and Australia, the Asplenium gracillimum producing fewer bulbils and having more widely set frond segments. Earlier literature refers to the Australian plants as Asplenium bulbiferum s. Pellaea rotundifolia - the button fern Nephrodium velutinum Trichomanes reniforme in a lovely mauve shade - better known as the kidney fern, which has since been re-classified as Hymenophyllum nephrophyllum. The item "1890 Artistic Herbarium NEW ZEALAND FERNS Mrs Tom Bell King of Kermadecs" is in sale since Tuesday, March 10, 2020.
This item is in the category "Collectibles\Rocks, Fossils & Minerals\Fossils\Vegetation\Plants". The seller is "voyagerpress" and is located in Blaine, Washington. This item can be shipped worldwide.

---