Centre caps Work Meister S1 3P and 2P wheels, Billet CNC Silver 60.1mm Toyota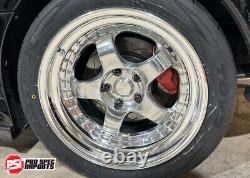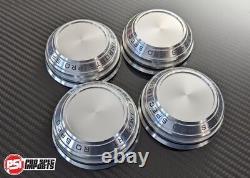 Toyota - Billet CNC Centre caps to suit Work Meister S1 3P and 2P wheels, 60.1mm. CNC'd Billet 6061 Aluminium Hubcentric Locating Center Caps. NOW AVAILABLE FOR BOTH 18" & 19" Work Meister S1 3P and. Choose wheel size and centre cap colour from the drop down menu.
Stunning new Billet 6061-T6 Aluminum CNC machined Pro Spec Imports centre caps. They not only look great, but actually function as a hubcentric spacer ring. Adapting the Toyota 60.1 hub spigot to the correct 73mm Work Wheels bore size to improve wheel fitment, and help to minimize vibration. Integrated O-ring design ensures snug fit into wheel, that seals all water and debris from getting past. Guaranteed to NEVER lose a centre cap!
You need to remove your wheel and fit the centre cap from the inside, this means it can never come off while driving. Price includes 4 x O-rings, special O-ring grease for installation and a black'cigar' box with magnetic lid that can be re-used. Which Toyota's do they fit? 5 x 114.3 stud pattern with 60mm Hub Ring (standard Toyota 5 stud).
Most Toyota models that are 2WD. So that's, Supra, Soarer, Chaser, MR2, Lexus IS200, IS350 etc.
They won't fit most Toyota models that are 4WD (GR Yaris and GR Corolla for example need our Taller cap to clear the longer 4WD Axle). Available in 3 different colours - See our other listings for the other colours! Clear Anodised Machined Silve r. 4 x high quality Billet 6061-T6 Aluminium Hubcentric Centre Caps. 4 x O-rings needed for water tight fitment (pre installed).
Black'cigar' box with magnetic lid that can be re-used. Installation tips, (we recommend professional installation).
Follow the instructions for all 4 wheels. You must remove the wheel for installation. IMPORTANT : If you have hubcentric rings fitted in the wheel or on the vehicles centre hub spigot they must be removed. Test fit the centre cap onto the vehicles centre hub spigot first. Ensure it locates on the centre hub spigot and sits flush against the hub face with no gap.
If the axle nut split pin is bent over the end of the axle it might be in the way of the centre cap. Bend and turn the pin so it goes around the circumference of the axle instead. Now add a small amount of vaseline or grease to the O-ring before installing the centre cap into the wheel. Now fit the centre cap to the inside of the wheel, they are a snug fit, ensure they are lubed first, pushing on the edges of the centre cap (not the centre) push them right in and ensure they are seated flush with the wheel face and not protruding. Now the centre caps are fitted you can put the wheels back on, note how the centre cap locates the wheel hubcentrically onto the hub. This will centre the wheel more accurately, improving fitment and reducing possible vibration.
IMPORTANT Ensure the wheel is fully seated against the hub face and there is no interference or issues before tightening the wheel and driving the vehicle. SOME CLEANERS ARE NOT SAFE ON ANODIZED METALS. For example;'Adams wheel cleaner' can damage the anodized surface of the centre caps and is not safe to use on them. WE HAVE TESTED THE FOLLOWING AND THEY ARE SAFE TO USE. Meguiars Ultimate All Wheel Cleaner.
Want to know if these fit your wheels? These may well fit other wheels, we have confirmed they fit TE37SLs also. All parts are for'Offroad / Show use' only.

---