New Zealand PONGA VASE Unique Rare Hand Crafted UNREAL One Of A KIND -44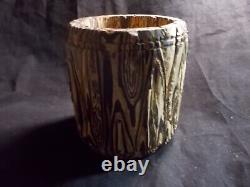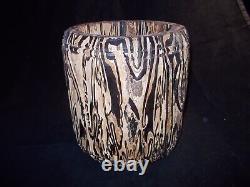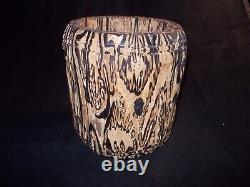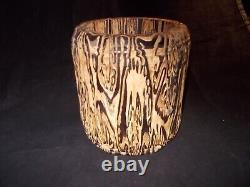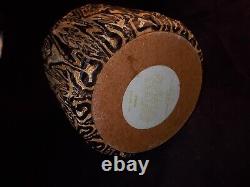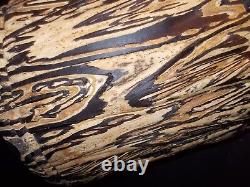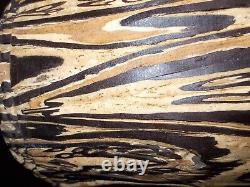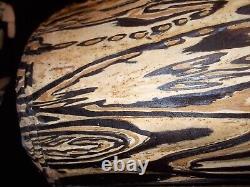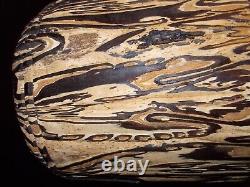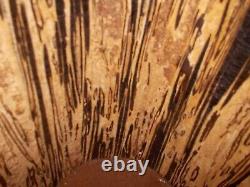 LIKE SOMETHING THAT YOU HAVE NEVER SEEN BEFORE! FORGET ABOUT GOING TO NEW ZEALAND TO BRING.
HANDCRAFTED FROM THE STEM OF THE. THIS PONGA VASE WAS COATED AND SEALED AFTER HARVESTING. THE DESIGN IS NATURAL AND NOT PAINTED ON.
SIZE = 5 3/8" TOP, 5 3/8" BOTTOM, 6 TALL. SOLID AND WEIGHS ABOUT 2 POUNDS 8 OUNCES.
This is a great piece and it would make a wonderful addition to your home as a decorative display centerpiece or rare collection. The value of this quality piece will increase with age due to its uniqueness, availability. This piece has a very natural look so any "imperfections" have naturally occurred and are "Mother Natures" results.
Smooth but uneven to the touch. BLACKENED AREAS ENCOMPASS GROOVES IN THE WOOD GIVING IT A UNIQUE FIGURE. THIS PONGA VASE CAME FROM A STORAGE FIND IN CALIFORNIA WHERE IT WAS STORED FOR 36 YEARS! I LISTED THIS NEW AS NEVER USED: HOWEVER; IT IS "VINTAGE"!
THIS IS A PROTECTED SPECIES LISTED IN APPENDIX 2 OF CITES. Convention on International Trade in Endangered Species. NO LONGER EXPORTED FROM NEW ZEALAND TO THE U. EXCEPT FOR AN OCCASIONAL USED ITEM.
DRY FLOWERS ONLY, WET IF YOU PROVIDE AN INSERT. CONFISCATED AN ESTATE PIPE WHICH THEY DEEMED RESTRICTIVE!
S H I P P I N G.

---