Weta Workshop The Hobbit Smaug Mini-Statue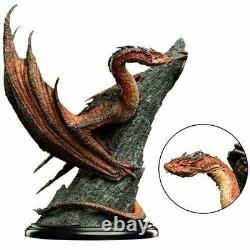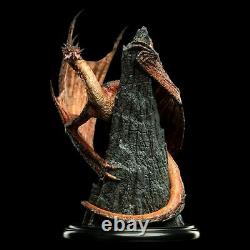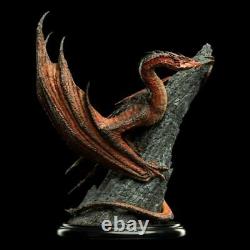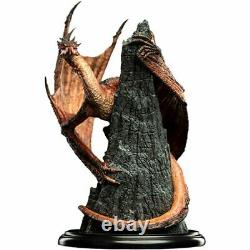 Breathtaking mini-statue from long-time Weta Workshop sculptor Daniel Cockersell! In exquisite detail, Smaug the Magnificent measures about 7 3/4-inches tall x 6-inches long. The Great Dragon is an open edition statue that belongs in your collection.
This breathtaking The Hobbit Smaug Mini-Statue measures about 7 3/4-inches tall x 6-inches long. Digitally sculpted in exquisite detail by long-time Weta Workshop sculptor Daniel Cockersell, Smaug the Magnificent will make a stunning addition to your collection of. And/or Weta Workshop miniature statues. Samug is an open edition statue.
Bred in ages past to be weapons in the war for Middle-earth, the Great Worms were huge, serpentine creatures, wrapped in scaly hides and possessed of wicked intelligence. Inside was combined the cunning of thinking beings and the savagery of wild beasts. Long horns, bladed claws, and wicked maws of countless teeth they had. The sharp, slitted eyes of the Dragons were ever watchful, their sense of smell keen, and their long bodies grew to a size unrivalled by any other creatures to walk upon the earth.
Some were winged, able to take to the skies and travel vast distances like the wind. Others burned with fiery wrath inside, spewing conflagration and death from their outstretched jaws at will. And in some, such abilities were paired to terrifying effect. By the later years of the Third Age, only a few remained, mostly sequestered in the scorched lands of the Withered Heath, far to the north and pinned between the spurred arms of the Grey Mountains. Great was their hunger, and a lust for violence burned ever in their bellies.
When rumor of the wealth of Erebor reached their ears, the greatest of the Fire Drakes yet living in Middle-earth took to wing and rushed south. Smaug was his name - a vast gold-and-red monster whose viciousness was matched only by his pride. His coming was like a hurricane of fire, the cities of Dale and Erebor swiftly falling before his irresistible advance, countless Dwarves and Men consumed in his flames or shredded by tooth and claw. Barely had the inhabitants realized what calamity was befalling them, when they were dead or displaced. Then the Great Dragon, who called himself Magnificent, seized the riches of the Lonely Mountain and took up residence to lie coiled upon his hoard.
Henceforth, Erebor became a place of dread, and all about the lands became barren, parched, and despoiled - the Desolation of Smaug! Listing and template services provided by inkFrog. The item "Weta Workshop The Hobbit Smaug Mini-Statue" is in sale since Thursday, September 16, 2021. This item is in the category "Collectibles\Fantasy, Mythical & Magic\Lord of the Rings\Figurines, Statues, Busts". The seller is "keengatoys" and is located in Haymarket, Virginia. This item can be shipped worldwide.
Modified Item: No
Country/Region of Manufacture: New Zealand
Genre: Fantasy
Brand: Weta
UPC: 9420024733066
MPN: WT03306
Item Size: 8 Inch
Franchise: Lord of the Rings

---