Ww1 Australian 1/a. I. F. / New Zealand 1st N. Z. E. F. Brass'a' Badge, The Anzac A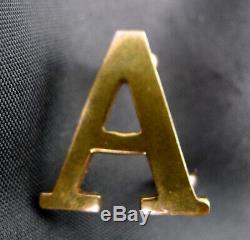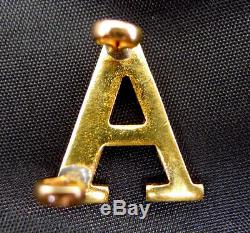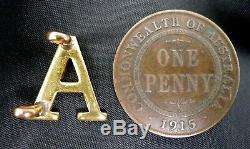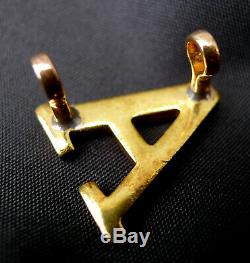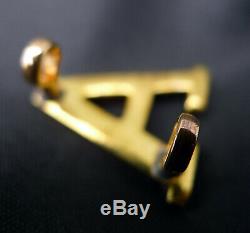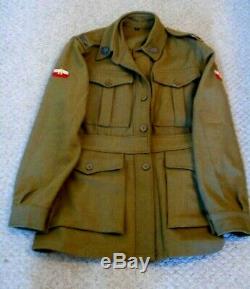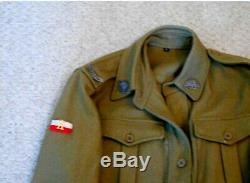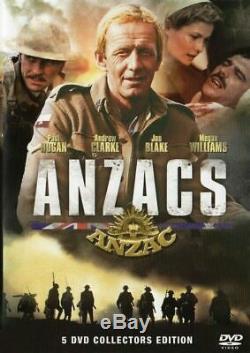 AUSTRALIAN IMPERIAL FORCE / NEW ZEALAND EXPEDITIONARY FORCE. Worn by original ANZACs' returning home or going on to France and Flanders on the upper tunic sleeve through the distinguishing unit cloth patch insignia. Worn and portrayed accurately by Paul Hogan as Pat Cleary in "The Anzacs" TV mini-series. In November 1917, AIF orders authorised the wearing of a small badge in the form of the letter "A" on unit colour patches to denote that the wearer had taken part in the 1915 Gallipoli campaign.
It was later prescribed that the badge would be a brass letter three quarters inch high. A further order, in January 1918 extended the eligibility to service "on the islands of Lemnos, Imbros, and Tenedos, on the transports or hospital ships at or off Gallipoli or these islands or in the AIF line of communications units from Egypt". It is interesting to note that this final addition embraced the work of the Australian Army Nursing Service so that both men and women were acknowledged as "the Anzacs". The wearing of cloth colour patches on the sleeves of jackets was adopted in 1915 as the means of identifying units of the AIF shortly before Australian battalions began to be embarked for service on Gallipoli.
The system was retained by the Australian Army after the war and remained in use during the Second World War. Anzac veterans who were again serving in uniform in the latter period were again able to wear the Anzac "A".
The Anzac badge has a hazy origin. Generals Gellibrand, Monash and Birdwood were among those variously given credit for its introduction. It seems most likely that the badge was the culmination of several ideas proposed in early 1916 to give recognition to the Australian veterans of Anzac. General Monash recorded one expression of such an idea when he paraded his brigade on the celebration of the first Anzac Day in 1916: Every man who had served on Gallipoli wore a blue ribbon on the right breast, and every man who, in addition, had taken part in the historic landing on 25 April 1915, wore a red ribbon also.
Alas how few of us are left who were entitled to wear both. Birdwood himself a central figure on Anzac evidently favoured the idea of some permanent distinction to be worn by Anzac veterans.
In August 1916, he told the five Australian divisions that he had no objection to them adopting an "A" badge for their colour patches. There was a mixed reception to the suggestion. Those divisions containing most Anzacs (1st and 2nd Divisions) favoured the idea while the commanders of the 4th and 5th Divisions were initially opposed to it. It was left to each division to make its own arrangements about the provision and adoption of the badge. By November 1916, Monash (3rd Division) was able to report: "All who have a right to be called "Anzacs"among us are now wearing a metal "A on the colour patches on the sleeves. In early 1917, convalescent Anzacs began to arrive in Australia wearing the Anzac "A" and the status of the badge, not previously seen in Australia, was queried. Finally deciding that formal adoption was necessary, AIF Order No. 937 (November 1917) authorised the badge for the whole force and ordered that it be supplied by Ordnance instead of regimental funds. Subsequent orders made the wearing of the badge compulsory and clarified the eligibility rules. There had been some resentment to the adoption of the badge, particularly in the early years. Survivors of Pozieres and Mouquet Farm in 1916 had, quite reasonably, felt that their experiences were comparable to those of the Anzacs. There may be some other markings or information that I have missed. Given that that I photograph my items under natural lighting conditions, without using a flash, there may be a slight variation in the colours in the photograph in relation to the item. Questions are invited and any information, comment and identification of items in any sale category not identified are welcome. For a timely response, please ask any questions early.
I do not end my auctions early. In order to prevent any potential dispute, most items will be described as either Issued or Unissued. There may be some added comment.
Questions are invited and information, comments and identification of any item in any sale category not identified are welcome. Please see other items that I have listed for more original pre WW1, WW1, WW2 and post war items relating to the insignia, heraldry and regalia of war; military medals and badges including Australian, Canadian, British and other Commonwealth and World items and antique personal possessions including jewellery and Objects of Vertu such as small objects created from precious materials either to be admired simply as works of art or conceived for a practical purpose such as snuff boxes, cigarette cases, scent bottles, fans and other similar articles of beauty and adornment. Generally, I sell small, shiny things. Where practical, coins, medals, other exonumia and numismatic interest, as well as badges, jewellery and small items of militaria etc. Are posted in Jiffylite size 000 padded bags (17cm x 11cm).
I will leave feedback, generally in a block at the end of the month. Please don't nag, hassle nor pester me for feedback. I offer a'No quibble' guarantee on items. The item "WW1 AUSTRALIAN 1/A. / NEW ZEALAND 1ST N.
BRASS'A' BADGE, THE ANZAC A" is in sale since Friday, August 9, 2019. This item is in the category "Collectables\Militaria\1914 - 1918 (WWI)".
The seller is "shed_finds" and is located in Donvale, Victoria. This item can be shipped worldwide.
Country: Australia/New Zealand
Product Type: Badges
Authenticity: Original
Era: 1910s

---